WE ARE AN INDEPENDENT ONLINE RADIO STATION AND RECORDING STUDIO TO HIRE LOCATED ON THE GRAND UNION CANAL IN LITTLE VENICE, LONDON.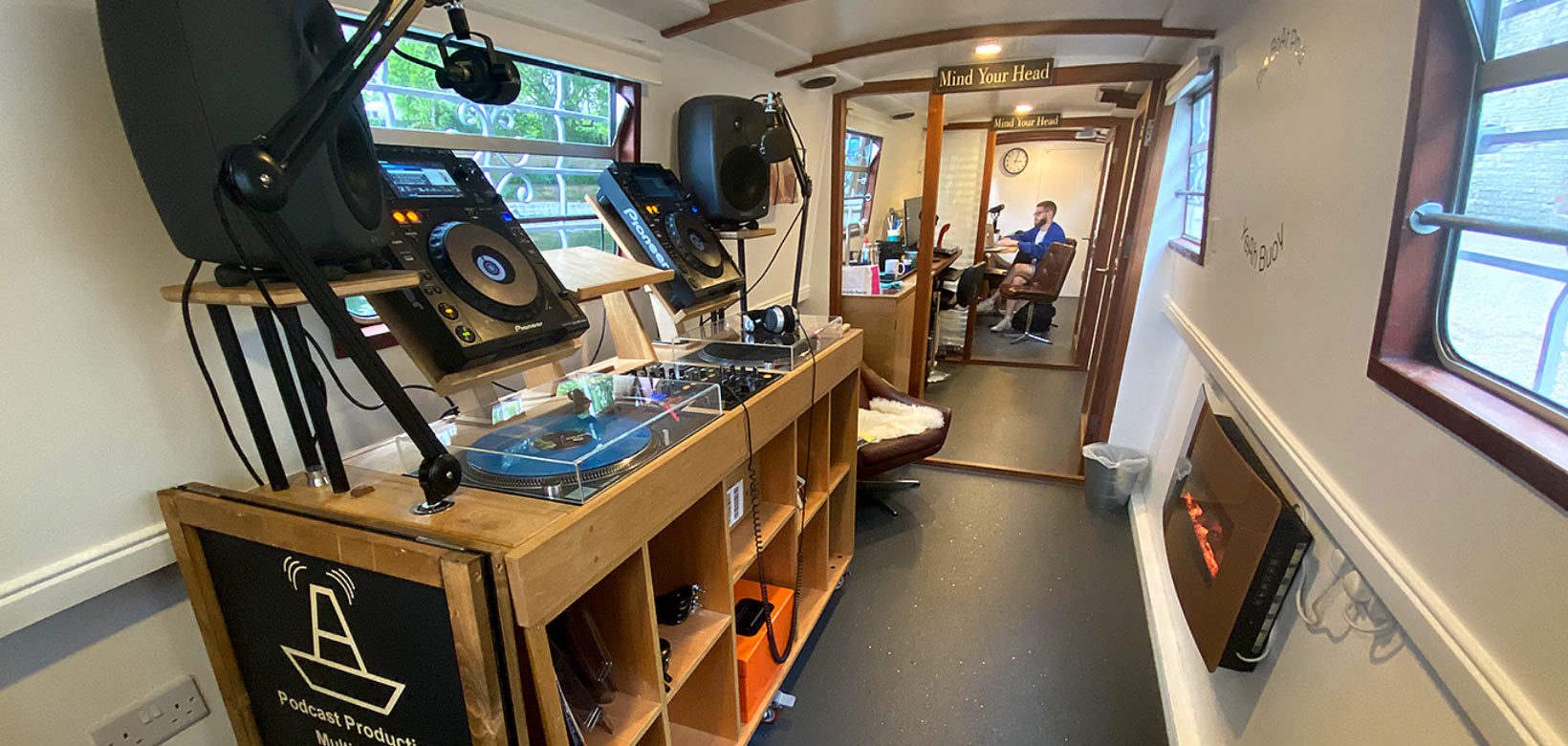 OUR STORY
The BoAt Pod is a 70s inspired state of the art recording studio floating in the heart of West London's Little Venice.
Our unique vessel has been constructed to embody a diverse range of creative channels.
In an evolving media landscape, we explore innovative ways to produce and record fresh inspiring content on board with brands and individuals worldwide.
Our radio and live music network stays true to our global grassroots community. We are proud to feature some of the finest OGs and up and coming DJs, selectors, and musicians from all corners of the globe.
MEET THE CREW
CREW

Captain
Skill:
Running a tight ship
Flavour:
Soul, Funk, Jazz Coffee
Staple Album:
Ahmad Jamal - The Awakening
Motto:
'Work hard, play Harder'
CREW

1ST OFFICER ALEV
Skill:
DJ, Producer, Presenter
Staple Album:
Stevie Wonder - Songs In The Key of Life
Motto:
'Where words fail, music speaks'
CREW

LIEUTENANT MITZ
Skill:
Singer, Songwriter, Producer
Flavour:
Soul, R&B, Jazz, Hip Hop, Disco, Rock
Staple Album:
Arthur Verocai, Self Titled
Trick:
Bendy Finger trick (Will perform on request)
Motto:
'Approach everyday with gratitude'
CREW

ADMIRAL BAILEY
Skill:
DJ, Lecturer, Producer, Presenter
Staple Album:
Burning Spear - Marcus Garvey
Motto:
'Slow and steady wins the race'
CREW

COMMANDER ANAFO
Staple Album:
A Tribe Called Quest - Midnight Marauders
Motto:
'You're only as good as your last gig'
CREW

MAJOR LOVRINOV
Skill:
DJ, Creative, Graphic Designer
Staple Album:
Chillout Session, Ministry of Sound
Trick:
Switching language mid sentence
Motto:
'If you're name's not Dan, you're not coming in'
CREW

COLONEL ASHWORTH
Staple Album:
Tim Hecker - Ravedeath
Trick:
General know-it-all
Motto:
'Hold on, I'll fix it'
CREW

SERGEANT NOCKOLDS
Staple Album:
Gang Starr - Hard II Earnv